Celebrating its 35th year in 2019, the International Luxury Coach and Transportation Show is the biggest convention in the world for the luxury charter transportation industry. Set in Las Vegas, it is the ultimate destination for operators around the globe seeking education, product showcases and peer-to-peer networking.

Freedman Seating and FMS Seating (booth #443) will feature the best in executive and luxury seating at the Mandalay Bay Resort and Casino, March 24-27.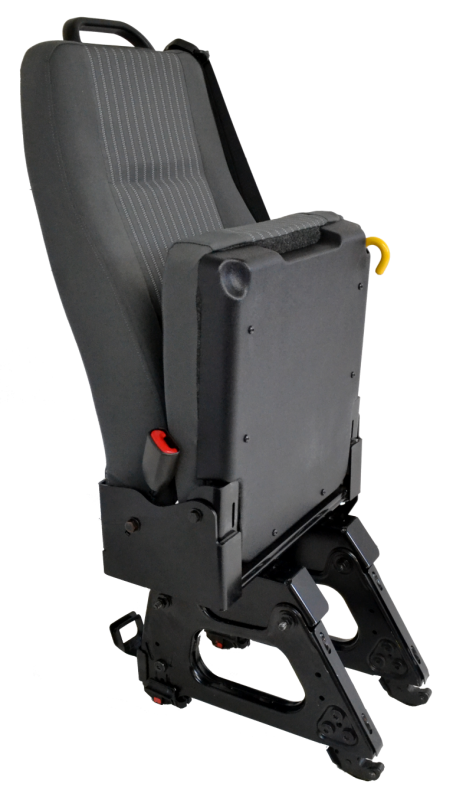 Transition Brackets for Ford™ OEM Legs
New transition brackets developed by Freedman Seating Company make it possible to install Freedman 3-point and FMS Eleganza seats onto existing Ford™ legs in a variety of floor plan configurations. FMVSS tested with 3-point seat belts, this new system allows operators, dealers and OEMs to upgrade their Ford™ Transit Wagon interior while using existing OEM legs and floor tracks. See more.
This product is currently available for Ford™ Transit Wagons. Medium and High roof models only.

GO-ES Flip Seat
The Freedman GO-ES Seat is designed for flexibility to accommodate your passengers growing needs.  Designed for easy customization, The GO-ES Seat is shipped "option ready" giving you the flexibility to quickly add accessories in the field. Now available as a SplitFlip to accommodate varying combinations for added aisle space, strollers, shopping carts and much more. Also available with as a Foldaway. A favorite for buses and transit vans.
Trieste 3PT
Experience the utmost in luxury, comfort, and style. The Trieste seat is available with several different insert styles and upholstery materials, allowing you to customize the look that best fits your needs. See the Trieste seat on Ford™ OEM legs and floor track! See more.
Bellagio 3PT
Designed to fit the needs of the executive shuttle market, the Bellagio is available with both rigid and reclining backs, in a variety of seat widths and insert panel styles. Deep bolsters hug you into the seat, providing the ultimate in passenger comfort. Let all customers experience the look and feel of first class with the Bellagio. See more.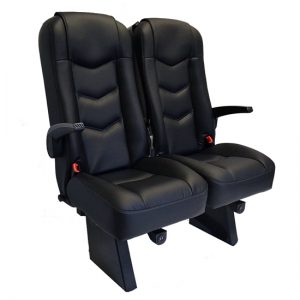 Venezia 3PT
The newest edition to the popular Eleganza Collection, the Venezia seat comfortable, stylish and safe! See more.
Messina Armrests
New armrests feature a coach-style design to accentuate your executive seats by FMS and Freedman Seating. The matching Messina armrest is perfect for in between seats or against the vehicle wall. Both armrests are available in wood grain and carbon fiber. See more.
The exhibit hall will be the epicenter of energy, fresh ideas, new and pre-owned products and and all-around great place to hang out. With exclusives no one else offers like happy hours and the all new Motorcoach Pavilion, you'll find it hard to get it all done in one day.