FOR IMMEDIATE RELEASE
January 29, 2018
CONTACT:
John-Paul Paonessa
Marketing Manager
(773) 524-2440
jp.paonessa@freedmanseating.com
Freedman Seating Takes Show on The GO in 2018
Mobile display features latest in transportation seating, provides education for OEMs, dealers, operators and industry leaders.
Chicago, IL – With another successful tour in the books, Freedman Seating once again plans to hit the road. Last year's Transit USA Tour traveled more than 35,000 miles across 40 states, stopping at major OEMs, dealers, agencies and industry events along the way. A team of experienced sales managers will once again buckle up in a 2017 Ford™ Transit Wagon with a rotation of passenger and driver seats on display.
Dubbed the "Show on the GO," Freedman will highlight the innovative GO series among other products. Both the GO and GO-ES (external seat belt) seats are lightweight, modular, and customizable, making them the new standard for bus and van outfits. The seat has even made a splash in the marine market, providing flexibility to accommodate passengers growing needs. Designed for easy customization, the GO and GO-ES seats are shipped "option ready" giving operators the flexibility to quickly add accessories in the field.
The van will depart from Chicago early February, making its way to major OEMs, dealers, operators, and trade shows across the US and Canada. Dave Rose will lead the third van tour with support from FSC's dedicated and highly knowledgably team of regional sales managers: Tamara Hobgood, Mike Beierschmitt, and Jack Sullivan.
"The display van will give Freedman Seating the opportunity to reconnect with existing customers and introduce products to new properties," said Dan Cohen, President. "We want to continue giving influencers and people throughout the industry a chance to sit in our seats and experience the product just as their customers would," he added.
The transit van is fitted with SmartFloor™ technology, a patented floor system available exclusively from TransitWorks that allows easy and quick moving of seats and wheelchair positions nearly anywhere within the van.
Topping the innovative floor system is Altro's Transflor. This highly resilient and durable vinyl floor features a virtual impenetrable quality wear layer, incorporating a patented formula of aluminum tri-oxide, silicon carbide and quartz crystal for slip resistance and beauty enhancing passenger safety.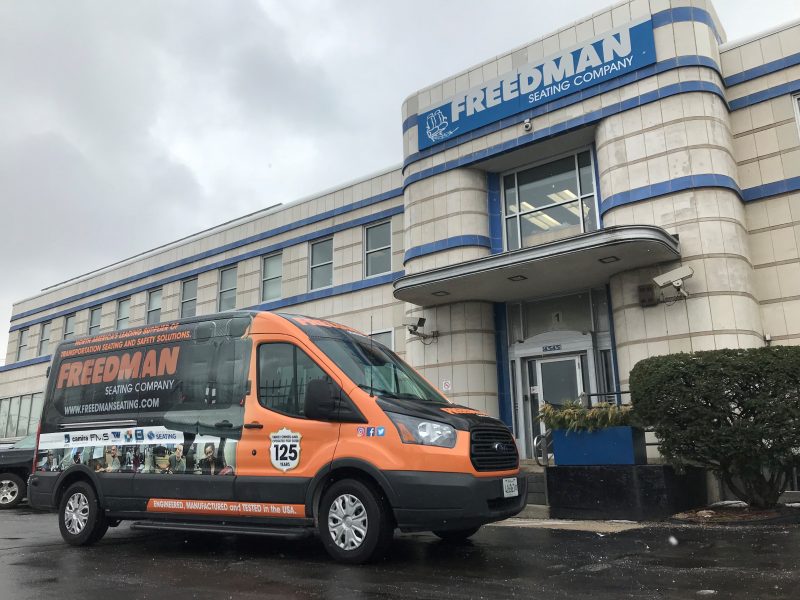 A collection of transit and executive-style passenger seats have been installed, along with a driver seat.

All seats include 3-point belts to compliment recent FMVSS regulations promoting safety throughout the commercial bus industry. Several upholsteries feature antibacterial, stain resistant, and maintenance-friendly technologies. Priority Seating vinyl gives elderly riders, people who utilize mobility devices and others needing additional consideration a clearly marked place to sit on a bus.
Information about the tour, including product brochures and a map of tour stops, visit www.freedmanseating.com/showonthego. Use hashtag #ShowOnTheGO on social media for tour updates and photos.
---
Freedman Seating Company
Freedman Seating is a seat manufacturer in Chicago, IL; designing, engineering, and manufacturing seat related products for many different markets, including small bus, mid-size coach, heavy-duty transit, rail, marine, delivery truck, and para-transit. Freedman Seating is a ISO 9001 registered company with an on-site A2LA Accredited Mechanical Testing Lab. www.freedmanseating.com
FMS Seating
FMS is a seat manufacturer in Rochester, IN; specializing in executive-style, luxury seating products for the small, mid-size, and limo bus markets. www.fmsseating.com
United States Seating
Designing transit seating options for both passengers and operators to give the best transit experience available. Focusing on comfort, durability, cost-effectiveness, and maintainability. Our driver seats minimize fatigue and pains caused by the job and reducing the stress of their livelihood.  For passengers, we want to give customers the best transit experience available with affordable and easily-maintained seats that do not skimp on comfort. www.usscgroup.com
Transit Works
TransitWorks is the country's leading builder of commercial shuttles, transporters, small buses and mobility vans. With three manufacturing facilities in Ohio and Kansas, TransitWorks is building and shipping innovative transit vehicles throughout North America. Authorized upfitter of Ford, RAM, and Mercedes full-size vans, and Dodge, Chrysler and Toyota minivans. TransitWorks has invested hundreds of thousands of dollars in crash tests, seat pull tests, and other safety testing to ensure the safety and security of our customers and their customers. www.transit-works.com
CMI Enterprises
CMI Enterprises is the supplier of choice for interior soft trim materials to the Bus Industry. CMI also supplies the Automotive, over the road truck, RV, marine and other transportation markets. In addition, the company's coated fabrics can be found in all major professional & college stadiums & arenas built in the US including Yankee Stadium, Lucas Oil, Dallas Cowboys, Georgia Dome, Minnesota Vikings, Lambeau Field and more. CMI is completing installation of its state of the art vinyl manufacturing facility in Mooresboro NC and will be the first new plant of its kind built in the US in decades helping bring jobs back to the USA.
www.cmi-enterprises.com
Camira
Camira, formerly known as Holdsworth, offers total fabric solutions for passenger transport interiors. All products from Camira have a 5-year warranty. Known for its wool plush fabrics, Camira's manufacturing expertise also can provide custom fabrics with added design and textures as well as contemporary flat weave fabrics for small and midsize bus applications. Camira also provides top of the line Plush Polyesters, in level 5, embossed Docket 90 A vinyl and other transit tested upholstery options.   Camira's Defender treatment provides anti-stain, anti-microbial and anti-bacterial protection ensuring treated fabric will resist stains for longer and require less maintenance. www.camirafabrics.com
Morbern
Morbern is a privately held, coated fabric manufacturer located in Cornwall, and has been producing in Cornwall for 52 years.  The company has annual sales of more than $100 million, selling automotive, heavy truck, and general seating products to markets throughout the NAFTA region.  Morbern employs roughly 400 people throughout the world, 250 of which are in Cornwall. www.morbern.com
Abercrombie Textiles
Abercrombie Textiles is a domestic weaver of flat woven fabrics for a variety of applications including upholstery, wallcovering, bedding and drapery. For over 30 years we have been supplying businesses in the transportation, hospitality, residential and healthcare industries with American-made fabrics. www.abercrombietextiles.com
Altro
Altro is the world's leading manufacturer of slip resistant flooring and has been at the forefront of innovation for almost 100 years. Being the inventors of safety flooring, Altro's transport flooring has been satisfying the diverse needs of the transportation industry in buses, vans and on rails for decades. Our flooring products deliver durability, safety, low maintenance and inviting designs. www.altrofloors.com