Freedman Seating Company will feature its latest innovations and solutions for bus and rail markets at APTA EXPO October 9-11 in Atlanta, GA.
Taking place triennially, EXPO is the public transit industry's premier trade show, where more than 12,000 professionals from around the world come to connect, share, and discover the most innovative public transportation solutions. EXPO features the world's largest collection of public transit manufacturers, suppliers, and consultants all under one roof. Additionally, EXPO's Learning Zones feature an expansive array of educational opportunities on the trade show floor. The 2017 Annual Meeting & EXPO is scheduled for October 8-11, 2017, at the Georgia World Congress Center in Atlanta.
Visit Booth 7567 for a Complimentary Shoe Shine and chance to win a FREE APPLE TV!
On display at booth 7567, Freedman Seating will feature several new and existing products for various transportation applications.
Esquire:  We gave our engineers two priorities, Safety and Comfort. They gave us the stylish Freedman Esquire seat. Features include height adjustable 3-point shoulder belts, Knee Saver backrests for increased hip-to-knee room, and contoured head rests. The Esquire meets FMVSS 210 and 202A to provide the ultimate combination of safety and comfort for all passengers. On display with fabric by LaFrance Industries.
GO-ES: Designed for flexibility to accommodate your passengers' growing needs.  With easy customization, the GO-ES seat is shipped "option ready" giving you the flexibility to quickly add accessories in the field. Also showing the GO-ES Foldaway and innovative SplitFlip options to accommodate varying combinations for added aisle space, strollers, shopping carts and much more.
See the SplitFlip version with Priority Seating Vinyl, a high quality printed vinyl that identifies specific seats as being "reserved" for priority passengers. Available on any Freedman back cushion or insert. On display with vinyl by Morbern.
Palermo: Introducing the newest addition to the popular Eleganza Collection, the Palermo seat serves your economical needs without compromising style or comfort. The executive line by FMS includes the market's most complete seating solutions with luxury and safety at the forefront of its design and engineering. On display with vinyl by CMI Enterprises.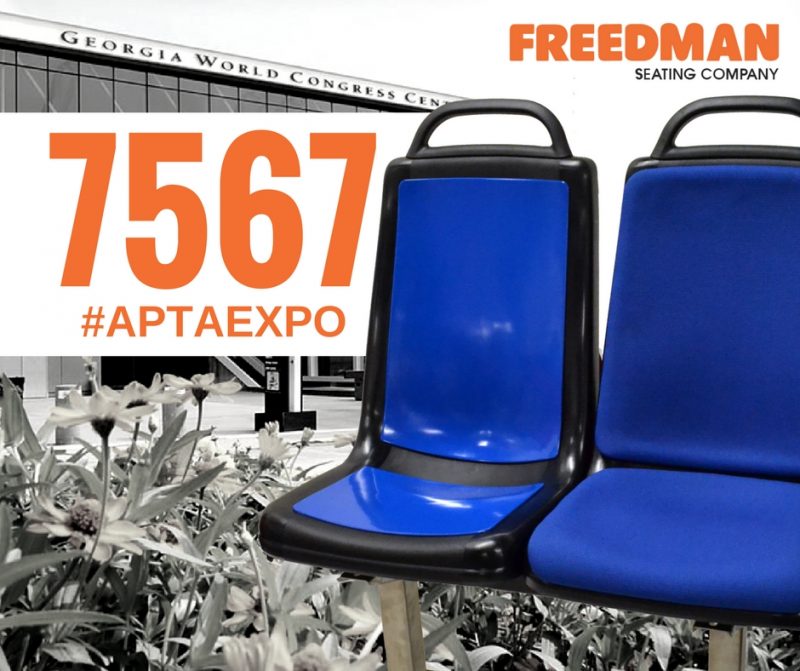 CitiSeat: The right seat for bus operators looking for strength, comfort, safety, and value. The CitiSeat is made from high quality injection molded ABS plastic, reinforced with steel tubing and fastened to a base frame. Each seat is individually molded to give passengers their own space. The CitiSeat can be upholstered in vinyl or fabric. On display with fabric by Camira Fabrics.
Aries: The Aries passenger seat is a transportation industry leader, the number one choice for rail. Aries seats are designed to withstand the daily rigors of passenger use. Its space-saving shape provides more hip-to-knee room, added leg room and ease of entering and departing. It meets APTA 22-C&S-016-99 standards. On display with vinyl by Morbern.
Stampede: Fiberglass molded bench style seating as used in Calgary Transit light rail cars.
Freedman Seating is proud to partner with United States Seating Company and Amaya-Astron to showcase the very best in transportation seating and safety solutions at APTA EXPO. Designing, engineering, manufacturing and testing in North America.