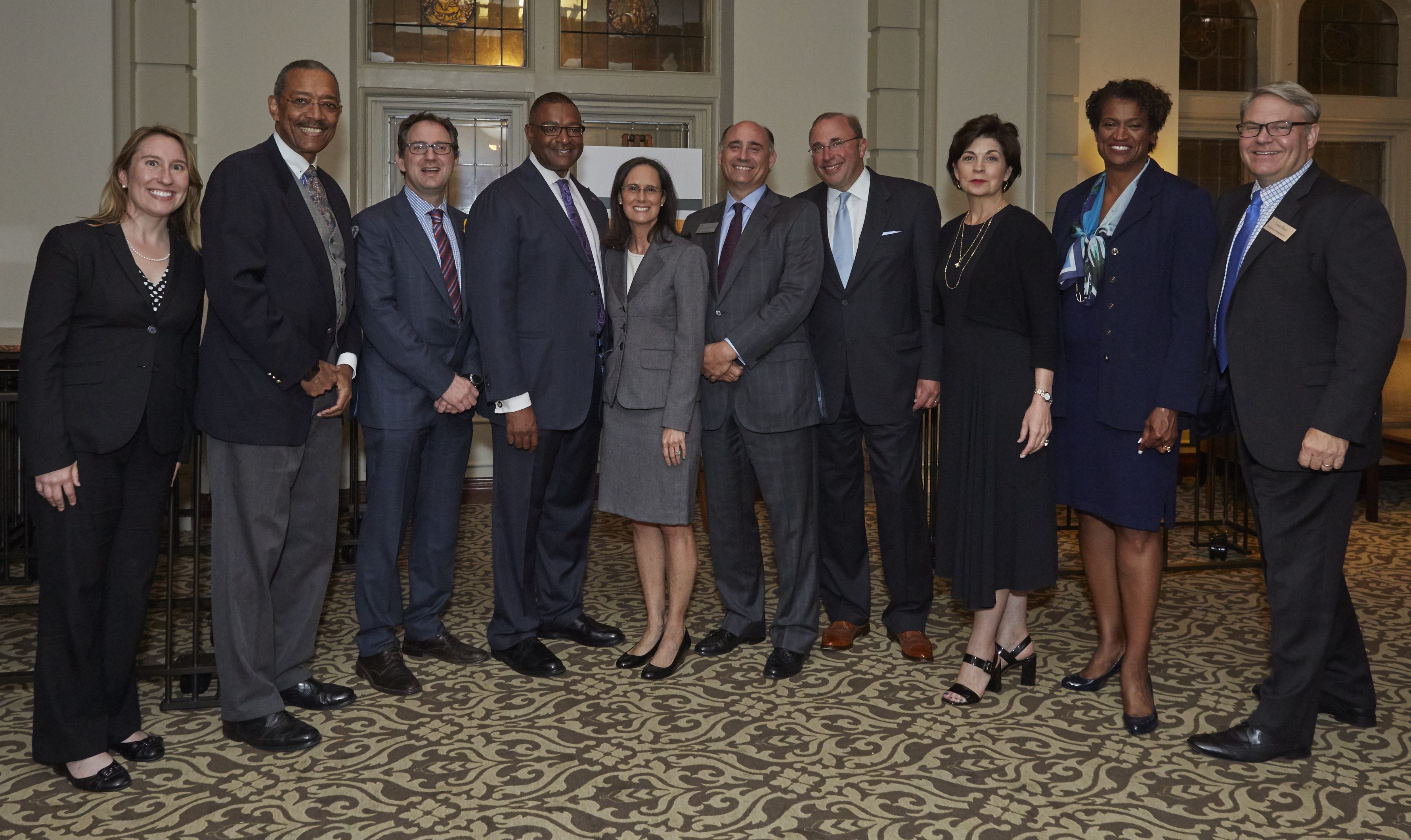 On Tuesday, August 11, 2015, Barnes & Thornburg LLP sponsored its 6th Annual "Celebration of Diversity" reception and dinner honoring diversity trailblazers. Cook County Commissioner Richard R. Boykin (1st District) invited Craig Freedman, President, to be an honoree at this year's celebration held at the University Club of Chicago.
"Your dedication to improving diversity in the workplace and promoting diversity through your accomplishments is inspiring," wrote Commissioner Boykin.
Past honorees include The Honorable Chief Judge Timothy Evans, Cook County State's Attorney Anita Alvarez, Jerry Reinsdorf, owner of the Chicago White Sox and Bulls, Alderman Ed Burke, John Rogers, and The Honorable Anne Burke.
This year's Keynote Speaker was Lisa Madigan, Illinois Attorney General.
Honorees
• Theresa Mintle, President & CEO, Chicagoland Chamber of Commerce
• Craig Freedman, President & CEO, Freedman Seating
• Steve Pemberton, Vice President & Chief Diversity Officer, Walgreens.
Craig Freedman
Craig Freedman became president of Freedman Seating Company in 2002.  After graduating from Northwestern University in 1988 with a BA in Economics, he worked as an analyst with Morgan-Stanley before pursuing his MBA from Harvard University. Upon completion in 1992, Craig returned to Chicago to focus on strategic planning and operations at Freedman Seating and has now been with the company for over 20 years.
Craig and Freedman Seating support and sponsor a long list of community organizations, especially those designed to help children and young adults.
Craig has been awarded a number of times for his commitment to the community, including a signed resolution from Mayor Rahm Emmanuel and 37th Ward Alderman Emma Mitts.
Co-Chair of the Chicagoland Manufacturing Renaissance Council, Craig was recently appointed by U.S. Secretary of Commerce Penny Pritzker to serve on the secretary's Manufacturing Council.
"We made a commitment to stay in Chicago and serve our community. The diverse workforce at Freedman Seating is a reflection of that community; hard-working, family-oriented individuals who have become the backbone of our success. We will continue to offer opportunities to a community that supports our vision," said Craig as he accepted the Diversity Trailblazer award on behalf of the nearly 800 employees on Augusta Blvd.
Freedman Seating Company
Freedman Seating Company's mission is to produce excellent transportation seating products. These products and our service shall exceed our customers' expectations.  This shall be accomplished in an atmosphere promoting continuous improvement and innovation for our products and personal growth for our employees.
Freedman Seating works with organizations like Jane Addams Resource Corporation and Wright College as well as area high schools such as Austin Polytechnical Academy (APA) to help train and integrate young people into the manufacturing industry. Pairing with JARC results in the hiring of individuals who receive hands on training in specific areas of manufacturing. High school students are offered shadowing/mentoring, internships, summer employment or have been hired fulltime.  Freedman Seating also has a presence on APA's advisory board.
Freedman Seating is proud that eighty-five percent (85%) of its excellent workforce reflects racial and gender diversity.